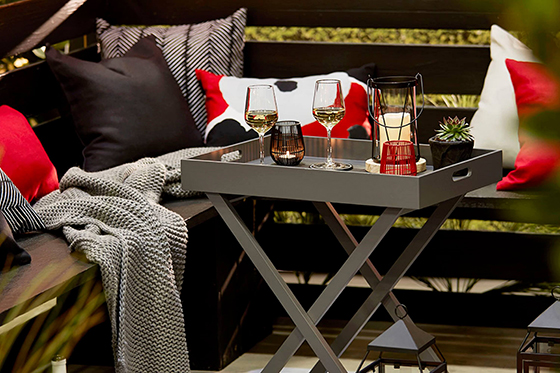 When you're looking at Santa Rosa Beach apartments, you want something that takes full advantage of the outdoor lifestyle. Part of that should extend to having an amazing outdoor space in your apartment itself. Apartment patios can be wonderful, but it's up to you to decide how to use it. These amazing outdoor furniture options can help you make the most of your patio.
Bistro Sets
Bistro sets are the bread and butter of patio furniture. For those unfamiliar, this is the small table with two chairs that you'd see outside of a European style bistro. They are small, yet functional. They come in countless colors, styles and varieties. They give you seating space and a functional table without eating up much of your patio real estate. If you browse bistro sets, there's a great chance you'll find something you love.
Hanging Bar Set
Instead of a table and chairs, you can do a bar and stools. Hanging bar sets attach to your patio wall or fence. This makes them extremely economical with your space, but they don't sacrifice functionality. They can look amazing, and they can set your patio apart from the others in the complex.
The Lounging Set
There are a lot of loungers in the world, but if you want a set that takes up a little less space, you want to consider two options: swivel chairs and rocking chairs. Swivels will traditionally be wicker chairs. They lean back a bit like loungers with big, plush cushions, and the wicker is outdoor tough.
Rockers come in every shape and style you can imagine. They allow you to enjoy your patio in comfort, but because they aren't lay-down loungers, they eat up less patio space.
With any of these furniture options, you still have plenty of room for flowers or other decorations. You can make your patio a homey, enjoyable space that adds life to your home. To get a real idea of how great your home can really be, contact us today and schedule a tour. You could find your new home in Santa Rosa Beach, Florida.