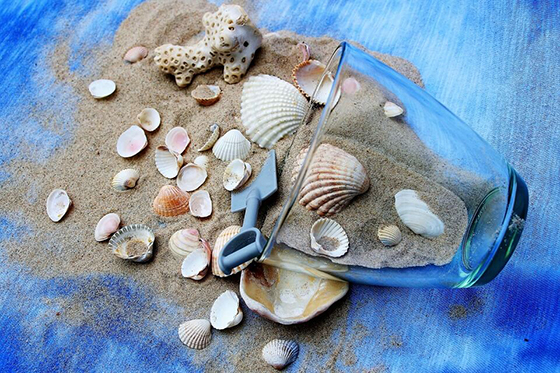 Living along 16 miles of Gulf Coast shoreline beckons for home interiors with a serene beach theme, and our Santa Rosa Beach apartments are no different. This widely appealing theme reaches far inland because not everyone has the luxury of the coastal living at their fingertips. However, our The Sanctuary at 331 community members do, so we offer these tips for home decor that matches the lifestyle.
Beach Style Furnishings: 101
Of course, it's all about ocean tones, bleached whites, and even that occasional ray of sunshine vibrant hues such as oranges and yellows that truly bring home furnishings into the spotlight. Choosing furniture with relaxed and minimal ornamentation is a great start for beach style, but a white-wash, sun bleach white tone is ideal for any 'wood' representing piece in any room. Feeling bold? Go for a teal or sea green wash on select pieces.
Curtains Can Make It or Become Breaks in the Waves
Mastering the coastal theme is all about going with the flow, and when you live in the Santa Rosa Beach zone, those flowing sheers can make or break the vibe. Even when the weather doesn't permit opening the windows to take in a flowing breeze, natural materials and sheers in oceanic colors and neutrals invite the outdoors in. In the bathrooms, choose shower curtains that capture the beach-relishing coastal theme you're going for.
Crafty Accessories
Bring nature indoors to incorporate the gifts of the ocean within the home decor without spending a dime. The beautiful white sand, shells, sea glass and dried sea plants can easily be transitioned into pieces of art. Layer them in clear glass containers, place them upon trays in an ornate design, or just let your imagination ebb and flow with the tide. The possibilities for 'free' theme additions is limitless.
Add Slipcovers, Pillows, and Throws
Put in random splashes of teals, bleached whites or other beach themed hues wherever a 'pop' is needed. Consider throws that can be draped across the back of the couch, a few inspiring pillows or a lovely linen combination on the bed can be just the touch you need to brighten up you Santa Rosa Beach apartment.
Discover Our Luxury Beachside Apartments in Santa Rosa Beach, FL
We invite you to breeze into the Sanctuary at 331 Apartments in Santa Rosa Beach, FL to tour our garden-style beachside community. Call today at 850-876-4631 to schedule an appointment.