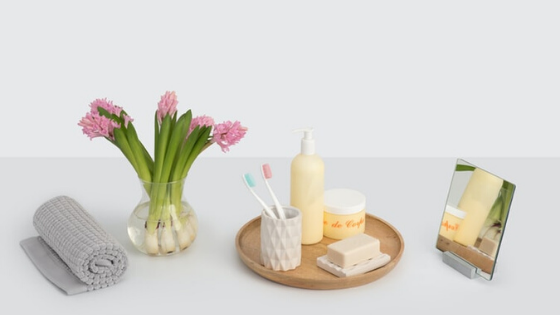 When you think of an apartment makeover, you start with the living and dining areas and maybe the bedrooms. But what about the bathroom? It's the first place you see in the morning and the last at night, so why not perk it up and make it a little more cheerful. It's a lot of payout for not very much effort!
Easy Bathroom Makeover Ideas
Have fun with color. How much livelier would that bathroom look with a shower curtain, bath rug, and towel set that match? Especially if it's a bright cheerful color: an assertive blue, a confident yellow, even a purple or pink. Hang some artwork where the frames or the art itself reinforces the color scheme.
Try a wicker theme. Bathrooms can feel stark and industrial. Soften that look with wicker baskets for toiletries; a wicker box on the toilet top, a wicker hamper, and if there's room, a wicker basket with a few magazines.
Brighten with metals. Maybe you can't replace the lighting, but you can brighten the space with a metal soap dish, vase, or toothbrush holder. Like a mirror, metal enhances light and gives any room more sparkle.
Change the light switch and outlet covers. Why settle for boring beige when you can have a vibrant color or a picture such as a seashore theme or your favorite flower. Pick them up online or at the next arts and crafts fair.
Add fragrance. Make your bathroom please your nose as well as your eyes. Have a pretty aerosol spray container on hand, perhaps nestled in one of those new wicker baskets. Bring in some scented candles to match your color theme. You only have to burn them occasionally.
An uplifted bathroom can raise your spirits where you live now, but how about putting these ideas to work in a brand new home? The Sanctuary at 331, casually elegant apartments in Santa Rosa Beach, FL, offers spacious one and two-bedroom apartments, a fitness center, pool and spa, and a large natural landscape along the Gulf of Mexico. Contact us to find out how our lifestyle can be yours.