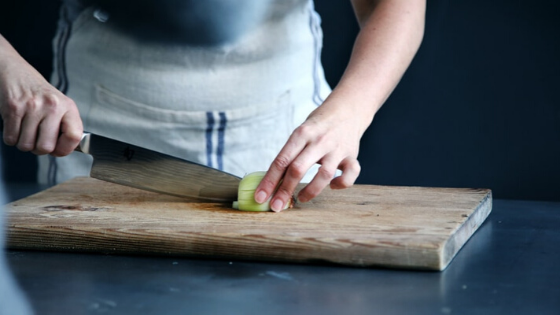 Kitchen gadgets have been transforming the way we prep and cook food for ages. Imagine what it must have felt like to home cooks when the potato peeler and the can opener were invented. Combine today's trained chefs who are constantly creating new flavors and ways to cook new products with high-tech manufacturing, and what you get are new and innovative kitchen gadgets that save you time and hassle in the kitchen.
Heat-Conducting Knife
Have you ever tried to cut a slice of cold butter, ice cream cake or frozen bagel with a knife ‒ it can be both difficult and messy. A heat-conducting knife slices through cold foods and many frozen, cream-based foods without a problem. The technology instantly absorbs the natural heat from your hands and transfers it to the knife blade, so you can easily slice through difficult, cold foods without waiting for them to soften.
Avocado Slicer
Guacamole is a great snack that is filled with healthy fats, but it can be a pain getting that avocado pit out. An avocado slicer combines three cool tools into one helpful gadget. It has a serrated blade to easily cut an avocado down to the pit, a stainless-steel pitter that grabs and lifts the pit easily from the meat, and a slice and scoop head to grab the creamy avocado from its shell.
Magnetic Knife Holder
You can clear up that crowded space on your kitchen counter by ditching the cutting knife block and hanging a magnetic knife holder in a safe place along a wall or under your cabinets. And, you don't have to worry if your favorite knives will fit, because all metal knives will stay securely attached to this knife holder. It's also great to see the knife blade while working, so you can easily grab the right tool when cutting meat, fish, fruit or vegetables.
Food Huggers
Round, flexible food huggers are made of reusable silicone and come in a variety of sizes. These products are multi-tasking ‒ they can securely grab and unscrew tops off of bottles, preserve the freshness and hold previously cut garlic, onions, peppers, and other veggies in the fridge while saving on plastic wrap, and safely keep a hold on fruit such as lemons and limes while slicing.
Herb Saver
The longer you can keep your herbs away from the air, the longer they will last while maintaining their fresh flavor. Instead of plastic bags, which can accelerate spoilage, consider herb-saver jars. These plastic containers are specifically designed for herbs and are typically tall see-through canisters with a well in the bottom for fresh water, and a venting component for the right amount of air.
Get busy cooking up your own gourmet dishes at The Sanctuary at 331, your new apartment home in New Bern, NC. You will certainly enjoy our resort-style amenity package, which includes a pool pavilion with a sundeck, free Wi-Fi, lighted tennis courts, fenced-in playground, picnic areas with grills, car wash center, laundry center, pet park, and a fully-equipped fitness center.